Intelligence in Audio Enhancing
FireCobra combines the accuracy of the digital world with the live randomness of the analogue. Behind its simple user interface, there's more technology than you'd expect. FireCobra intelligently analyses the audio signal and makes it sound punchier, more powerful and better in general. It makes the mixes better with nearly no time wasted on setting it up. Just put it on every track you'd like to enhance and set how much. Quick and easy and sounds unbelievable.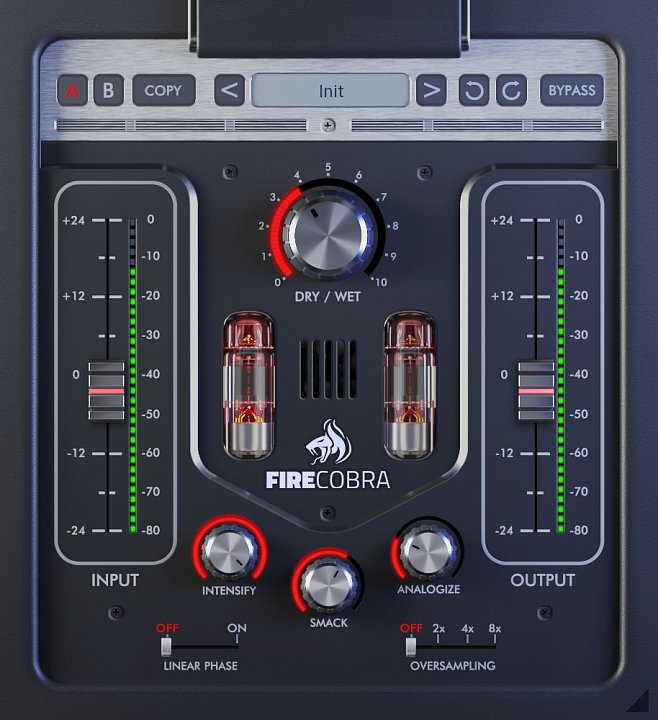 ---
Intensify your audio materials
Intensify is the main feature algorithm FireCobra. It intelligently analyzes the input audio and makes the output sound tighter and fuller. It brings up the drowned and overheard elements that are hard to perceive and attenuates elements, which tend to kill and bury the others. And the best thing is that all it takes is a single knob!
Give it a smack
The real punch is what you need. Inspired by rare analogue devices the Smack feature creates unique and pleasant harmonic distortion. It makes the audio sound rather dirtier but way more authentic and audible in the mix.
Analogize your tracks
The Analogize algorithm is based on a simulation of classic analogue saturation units. Most audio signals benefit from a bit of the analogue warm valve mojo.
CPU-friendly - use on multiple tracks
Even though the contemporary computers' performance almost reaches the sky there's always need to administer it wisely. FireCobra is a highly optimized unit designed to take the most from your CPU and exploit the newest AVX2 and AVX512 architectures.
Ridiculously simple to use
In most cases, all you need is the DRY/WET knob. Increase its value to get more enhancement and vice versa. Always keep in mind that sometimes less is better and if every track in your mix will be too powerful, the mix will become crowded. But that shouldn't stop you from experimenting and tweaking your sound the way you wish.
Hassle-free software protection
No iLok, no dongle nor internet access is required for activation. Our software uses licence files to activate your software. You can freely use the purchased software on all your computers as long as you are the user.
Realistic 3D yet flexible GUI
The photorealistic graphic user interface of the plugin gives you the feeling you are touching the real hardware. But it easily adapts to your needs. You can always drag the arrow in the bottom right corner to change its size - make it smaller to save valuable screen space, or enlarge it to make it easier to use.
15-Days unlimited trial version for FREE
All the descriptions are nothing compared to putting your hands on the plugin. No saving limits. No noises. No boundaries. Engage the plugin in your project for real and fully exploit its powers for two weeks.
64-bit audio quality at ANY sampling rate
The plugin provides the maximum audio quality you can get. It uses internal 64-bit audio processing and can handle any sampling rate. 192 kHz or even higher.
Smart bypass
The intelligent way our plugins manage bypassing ensures that you don't get any clicks or harmful noises when automating the parameter. It also compensates for latency ensuring that the bypass states are perfectly in sync with each other.
Free-for-life updates
Our plugins never get obsolete. We keep track of the current operating systems and DAWs. And you may always update to the most recent version for free. Without paying a cent, a penny, or whatever currency you prefer.
Drums
Kick
Mix
Female Vocal
Male Vocal
Drums 25%

Drums 50%

Drums 100%

Drums Brutal

Drums Ultra Brutal
date: 12 July 2018
An intriguing plug-in that can improve some tracks and mixes using only a few adjustments, but getting the best results requires some experimentation.