Energize your loops
Hours of mixing and your drumloops still sounds like s... something you are not satisfied with? Don't waste that time any more. If the solid, strong, proud and punchy sound is what you desire then take a shortcut. Urban Puncher delivers it within a second. Save your time and ears for mixing other elements. The drum issue is solved with Urban Puncher.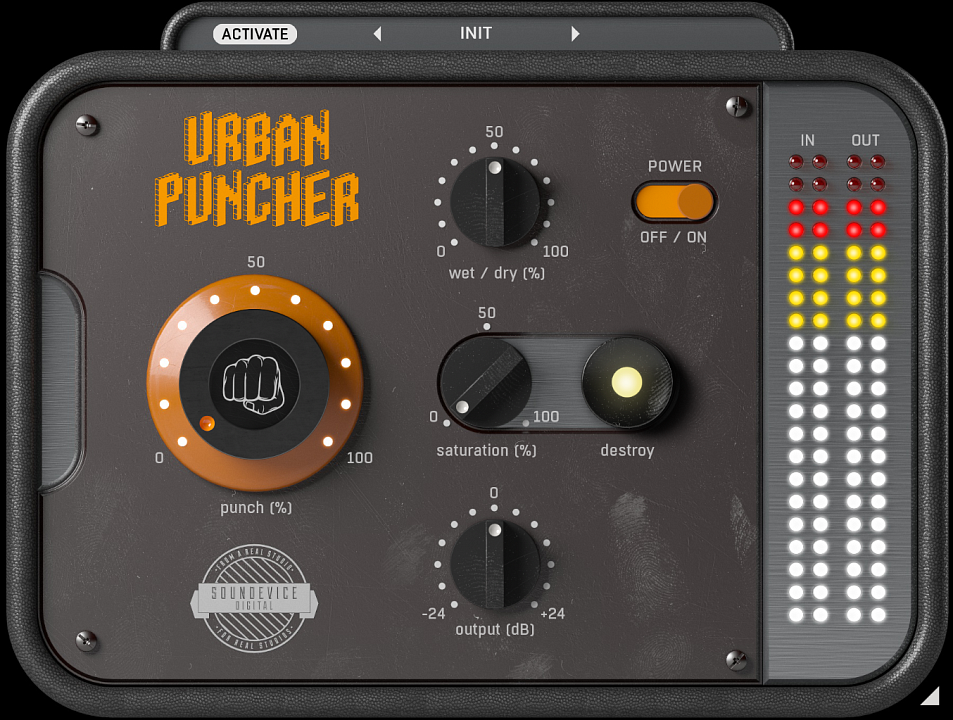 ---
Urban Puncher

Key Features
How it works
Urban Puncher is an effect that gives a "punch" to your percussive material (drums, percussion). Intended for drum loops but works instantly on anything that you can call drum hit. Your loops will step out of the shadows immediately. Urban Puncher delivers a stronger and more solid feel in no time.
Hip-hop and more...
Hip-hop, trap, r'n'b, nusoul, breakbeat, grime... you name it. UrbanPuncher will enhance any electronic style rhythm tracks immediately. Make the beats stronger and punchier within a second.
How to use it?
Urban Puncher is a definitive drum improving tool for any urban music producer. It doesn't matter much if you can put it on your drum channel after or before your EQ or comp. Simply dial how strong the punch your tracks get should be and mix it with the original sound and let Urban Puncher do its magic.
Punch
What is a "Punch"? There's not a simple answer to that. The punch knob controls several processes at the same time. It can be described as an esoteric dynamic process with transients treatment and spectral shaping.
Saturate
Analogue-like transformer/tube blended emulation of saturation gives the punch a completely different feel. Use it gently to make your track blend in easily or dial the Saturation knob all the way up to get the real street sounds.
Destroy
And you can even punish your drum loops with the Destroy button. Hitting that triples the values you dial with the saturation knob. That results in a heavier form of distortion.
Experiment
Although the primary UrbanPuncher intention is for drum loops it is not where you should stop. The plugin can give extra punch to other instruments such as acoustic guitar or piano. Don't be afraid to experiment.
Hassle-free software protection
No iLok, no dongle nor internet access is required for activation. Our software uses licence files to activate your software. You can freely use the purchased software on all your computers as long as you are the user.
Realistic 3D yet flexible GUI
The photorealistic graphic user interface of the plugin gives you the feeling you are touching the real hardware. But it easily adapts to your needs. You can always drag the arrow in the bottom right corner to change its size - make it smaller to save valuable screen space, or enlarge it to make it easier to use.
FREE 15-Day unlimited trial
All the descriptions are nothing compared to putting your hands on the plugin. No saving limits. No noises. No boundaries. Engage the plugin in your project for real and fully exploit its powers for two weeks.
64-bit audio quality at ANY sampling rate
The plugin provides the maximum audio quality you can get. It uses internal 64-bit audio processing and can handle any sampling rate. 192 kHz or even higher.
Smart bypass
The intelligent way our plugins manage bypassing ensures that you don't get any clicks or harmful noises when automating the parameter. It also compensates for latency ensuring that the bypass states are perfectly in sync with each other.
Intelligent sleep on silence
This plugin intelligently detects whether it makes sense to perform processing at all. And if not, it temporarily turns on sleep mode. In such a state, it requires virtually no CPU at all to save the computing sources for other processes.
Free-for-life updates
Our plugins never get obsolete. We keep track of the current operating systems and DAWs. And you may always update to the most recent version for free. Without paying a cent, a penny, or whatever currency you prefer.
Better Mix

Character Drums

Slightly Distorted

Fat Drums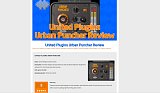 date: 26 August 2021
Though United Plugins says it's for drum loops, I found it useful on bass, strings, electric guitar, and other tracks. It's also good for adding a touch of high-end energy when added to a buss or master.