We don't give a damn about a slogan
Experience the raw energy of digital degradation with Bitpunk, the ultimate audio plugin for bit manipulation. Unleash its immense power to transform your sound through a wide range of bit-altering techniques, including swapping, crushing, inverting, and morphing. With an array of cutting-edge bit-mangling effects, as well as master compression, saturation, and hard clipping, Bitpunk stands as the pinnacle of bit plugins, pushing the boundaries of sonic exploration like never before.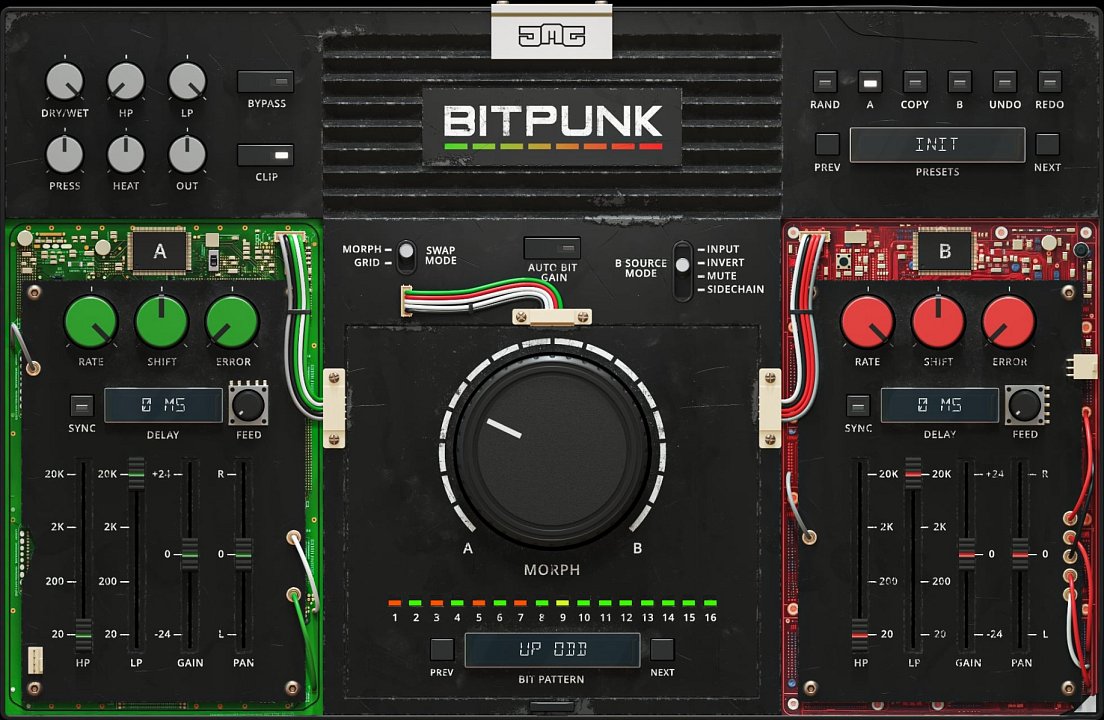 ---
Powerful Bit Manipulation
Bitpunk is an extremely powerful and versatile digital degradation effect. It can manipulate bits in various ways, such as bit swapping, classic bit crushing, bit inverting, and bit morphing. With a host of bit-mangling FX and master compression, saturation and hard clipper, it is probably the most advanced bit plugin to date.
Enhance Or Destroy
Bitpunk can subtly enrich your sound in various ways. Add top-end crunch with some bit-crushing and rate reduction, smooth it out with the filters, beef up the low end with feedback, and then compress and saturate for ultimate enhancement. Or go hard by smashing the life out of the bits, deforming them with frequency shifting and glitch FX, then overdrive everything through aggressive compression and hard clipping. Bitpunk can go from subtle sonic magic to all-out degradation, deformation and destruction.
Create A Difference
The main focus of the plugin is to swap bits from two channels, A and B. For the bit-swapping to have an effect, the two channels must be different in some way. We provide many ways to achieve this with A and B FX, which sound great in their own right and downright dirty when bit-swapped. They include a rate reducer, square-wave frequency shifter, syncable delay, high-pass & low-pass filters and more.
A New Crush
When in Mute mode, Bitpunk allows you to swap bits from the input with silenced bits for the classic bit-crushing effect. Standard bit crushers, silence the bits starting from highest to lowest, however here you can mute them in any order you wish for a modern twist on a classic effect.
Swap With Anything
Bitpunk has a sidechain input that lets you route any audio into the B channel. You can then swap bits between the two signals allowing you to smoothly morph between two sound sources in very unique ways. Additionally, you could use the sidechain to duplicate the input signal and use external FX to create the differences between the two channels.
Master FX
After you have finished deforming and degrading your audio with the bit FX, you can treat the sound to some enhancements to finalize the sound. There is an aggressive compressor, soft clipping diode saturation, high-pass & low-pass filters and a hard clipper. Use them to tame harshness, fatten the sound, or overdrive it into oblivion, then blend the overall effect with the master Dry/Wet mix.
Hassle-free software protection
No iLok, no dongle nor internet access is required for activation. Our software uses licence files to activate your software. You can freely use the purchased software on all your computers as long as you are the user.
Realistic 3D yet flexible GUI
The photorealistic graphic user interface of the plugin gives you the feeling you are touching the real hardware. But it easily adapts to your needs. You can always drag the arrow in the bottom right corner to change its size - make it smaller to save valuable screen space, or enlarge it to make it easier to use.
FREE 15-Day unlimited trial
All the descriptions are nothing compared to putting your hands on the plugin. No saving limits. No noises. No boundaries. Engage the plugin in your project for real and fully exploit its powers for two weeks.
64-bit audio quality at ANY sampling rate
The plugin provides the maximum audio quality you can get. It uses internal 64-bit audio processing and can handle any sampling rate. 192 kHz or even higher.
Smart bypass
The intelligent way our plugins manage bypassing ensures that you don't get any clicks or harmful noises when automating the parameter. It also compensates for latency ensuring that the bypass states are perfectly in sync with each other.
Intelligent sleep on silence
This plugin intelligently detects whether it makes sense to perform processing at all. And if not, it temporarily turns on sleep mode. In such a state, it requires virtually no CPU at all to save the computing sources for other processes.
Free-for-life updates
Our plugins never get obsolete. We keep track of the current operating systems and DAWs. And you may always update to the most recent version for free. Without paying a cent, a penny, or whatever currency you prefer.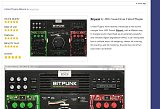 date: 10 July 2023
Once again, JMG provides a unique processor with an extreme range of unique effects. If you work in any genre that can use a lot of "grit" on some tracks, you should give it a try (free as always to try for two weeks and fairly priced, especially the intro sale price). A load of fun!