Introducing Pluralis
A new dual-delay plugin available (75% off)
Pluralis features a unique layered delay design with several modes to split the signal. You can apply different delays to different parts of your audio and get results previously unheard of. As Zardonic (artist and the maker of several presets for the plugin) would say: "Calling Pluralis a Delay plugin is an understatement!"
One becomes two
The unique power behind Pluralis is in the way it splits the signals and can then process them separately or in different combinations. The plugin has four modes to do this: Mid/Side, Left/Right, Quiet/Loud and Low/Hi. Here's how they work with Pluralis…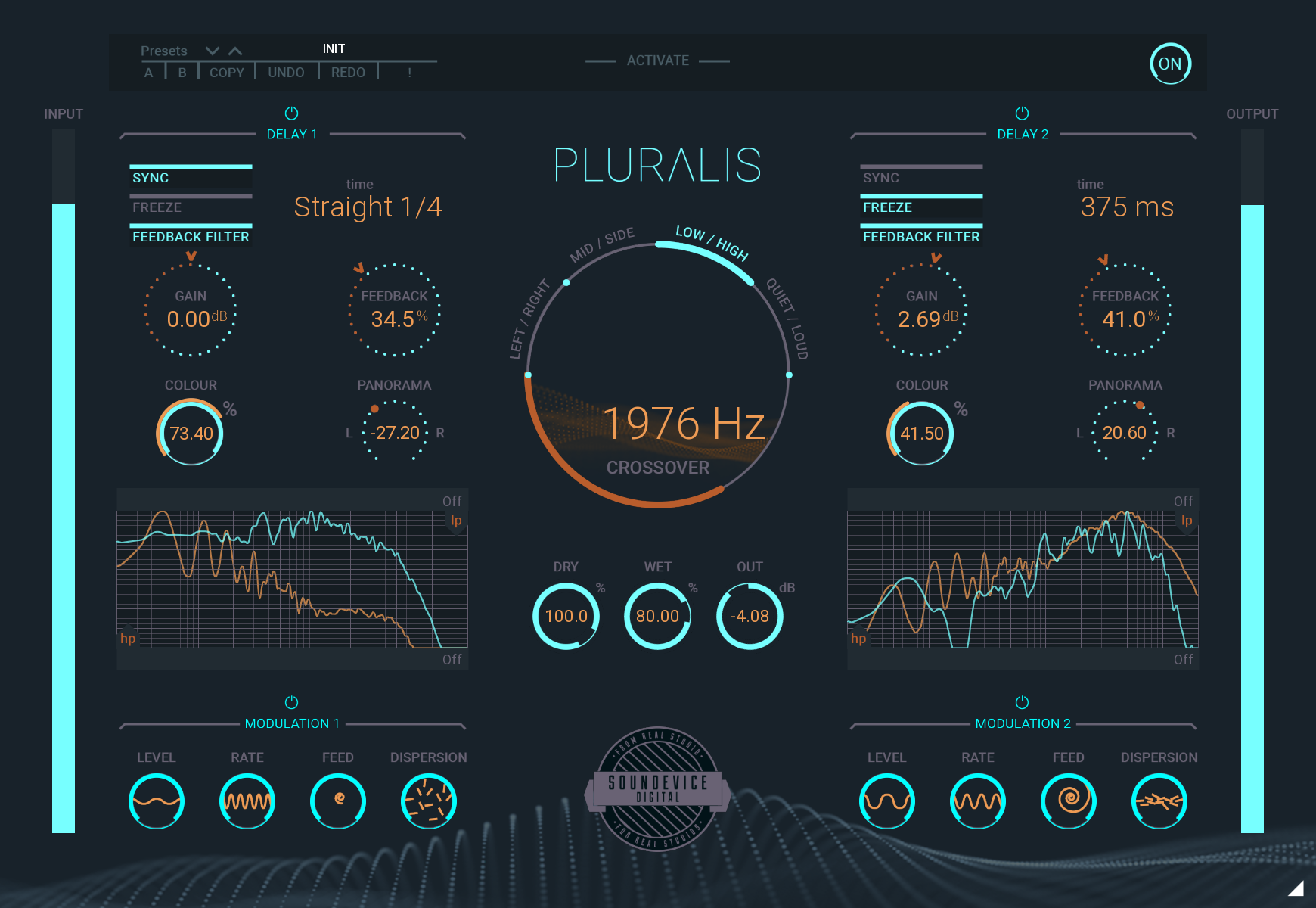 The Quiet/Loud mode lets you split the audio at a specific loudness (set by the Crossover dial) so the delay processors work on both quieter or louder parts of your audio. Low/High is another powerful option. Here Pluralis allows you to process different frequency ranges set around an adjustable frequency set by the Crossover dial. Left/Right splits the signal more traditionally into left and right channels, so you can apply one delay to the left channel and one to the right. And Mid/Side processing is simply a different way to process a stereo audio file and is commonly used in EQs and compressors. Instead of processing the left and right, you split the signal into the centre (mid) and the right and left (sides).
Modulation sections
Each of the delays has its dedicated Modulation section and each one allows you to set values for the Level, Rate, Feedback and Dispersion of your modulation so you can finely tune how much modulation is set and applied to which parameters.
Try it yourself
The best way to understand how impressive the results achieved by Pluralis can be is to try it yourself. Pluralis has a 15-day unlimited trial that allows you to test every detail and the number of presets already included. The following video can give you a little hint...


Don't miss the intro sale
Pluralis is compatible with most VST/AAX/AU DAW applications on both Windows and macOS. The price is set to €79. But you may grab the intro price €19 until the end of May.