Bio
Born and raised in the Bronx NY, PERFXN is a music producer and clothing designer. Her musical influence comes from her family of musicians. In 2015, Perfxn enrolled in the New York Audio Academy at Engine Room Audio to expand her passion and pursue her dream as a producer. Upon graduation, she was offered a position as a personal assistant to the Studio Manager. She stayed with Engine Room for 5 years rising to the rank of Assistant Studio manager. While working at Engine Room, she spent countless hours establishing industry relationships and mastering her production craft.

Perfxn co-starred on "Blap Chat" for 3 years, a music production podcast founded by !ll Mind, where she interviewed notable producers and did beat reviews for listeners. She also co-produced Angela Yee "Lip Service" podcast and served as an occasional co-host. She landed her first production placement on Vory's latest project, producing "York Way". She did post production / sound design for DJ Khaled's podcast The First One on Amazon music through Springhill Co, Lebron James's media company. Moreover, she was a part of a Native Instruments / Beatclub campaign with legendary producer Timbaland, who has been an advocate of her music and is currently doing artist development / executive producing an EP for upcoming singer and songwriter Niqa Mor.

Quotes
---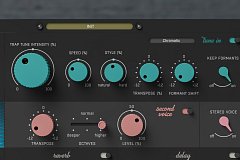 I'm really impressed with the amount of presets Traptune has and how easy it is to add a variety of cool effects to your vocals. I'm looking forward to exploring more of them in my music.
---
---