Bio
Boris was nominated for Best sound Czech Grammy 2006 for album Dreamer (band Sunshine). He also produced song Atentat (band Krystof) which won Czech Grammy in 2008 as The song of the year. The song was also the most played radio hit in 2008 on Czech radio stations.

The same year the album 'Laska jako oliva' (Ivan Hlas) was nominated in category Folk and Country. In 2012 Boris released the album The Escapist. The album won Czech music awards of Czech music critics 'Apollo' (Czech Mercury prize) as the best album of 2012. He was also nominated in 5 categories (best singer, best album, best video, best newcomer and best electronic album) for Andel – Czech Grammy. Finally, Boris won 2 categories: The Best Video of The Year and The Best Electronic Album.
Boris is the leading designer in SounDevice Digital.
Quotes
---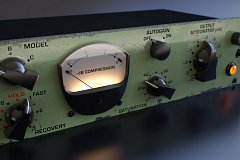 I put my experience, my taste and my music skills into forging this plug-in. I hope it meets your taste, too.
---
---