Colour, Polish, Finish
Some performances are almost perfect. Almost. The desired perfection can be achieved by using Autoformer. A tool that can act almost inaudibly as well as it can add great colour to your tracks. Autoformer combines an analogue like pre-amp with automatic volume function and a gentle compressor. It is the right tool for your vocals or voice-overs. Improves drummers or bass-players performances.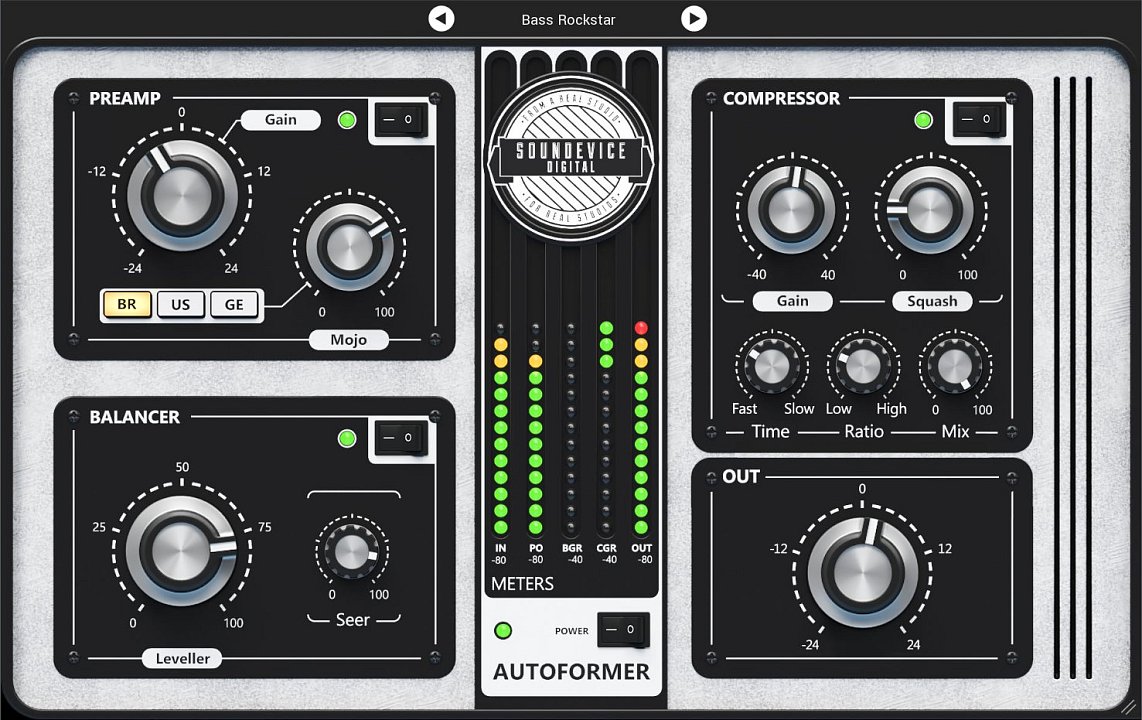 ---
Voice, bass, double bass
Autoformer is an ideal companion for mixing both bass guitar and double bass performances. It is indispensable when creating vocal or voice-over tracks. But it can be also used to balance drum recordings.
The preamp
Inspired by the Front DAW plugin BR/US/GE buttons in the preamp section represent three types of analogue circuits. BR represents classic fat British consoles, US stands for legendary punchy American style input. Switching to GE will give you velvet sounding colourful vintage German tube console.
Intelligent volume rider
Balancer section is here to repair performance mistakes and volume dropouts. Its (inaudible) performance will make you feel like they were never there. The SEER parameter detects the ahead signal to decide if your material needs volume adjustment (made by LEVELLER).
Finish
Engage the fast modern compressor to soothe the dynamics of your track without changing your signal's spectral character. No colour, just fix.
Bypass any section
Autofomer is very complex. But thanks to individual bypass switches in each section, if desired, you may use any part as a single effect. Use the automatic volume function only or just the pre-amp in combination with the compressor. Do exactly what you feel is needed.
Under control
Five LED meters give you a perfect overview of what is going on in Autoformer's signal chain. Every stage can be monitored so you tracks are perfectly under control.
Hassle-free software protection
No iLok, no dongle nor internet access is required for activation. Our software uses licence files to activate your software. You can freely use the purchased software on all your computers as long as you are the user.
Realistic 3D yet flexible GUI
The photorealistic graphic user interface of the plugin gives you the feeling you are touching the real hardware. But it easily adapts to your needs. You can always drag the arrow in the bottom right corner to change its size - make it smaller to save valuable screen space, or enlarge it to make it easier to use.
15-Days unlimited trial version for FREE
All the descriptions are nothing compared to putting your hands on the plugin. No saving limits. No noises. No boundaries. Engage the plugin in your project for real and fully exploit its powers for two weeks.
64-bit audio quality at ANY sampling rate
The plugin provides the maximum audio quality you can get. It uses internal 64-bit audio processing and can handle any sampling rate. 192 kHz or even higher.
Smart bypass
The intelligent way our plugins manage bypassing ensures that you don't get any clicks or harmful noises when automating the parameter. It also compensates for latency ensuring that the bypass states are perfectly in sync with each other.
Intelligent sleep on silence
This plugin intelligently detects whether it makes sense to perform processing at all. And if not, it temporarily turns on sleep mode. In such a state, it requires virtually no CPU at all to save the computing sources for other processes.
Free-for-life updates
Our plugins never get obsolete. We keep track of the current operating systems and DAWs. And you may always update to the most recent version for free. Without paying a cent, a penny, or whatever currency you prefer.
Acoustic Guitar
Bass Miracle
Drum Room
Drum Bus
Female Vocal
Kick Cure
Snare Miracle
Double Bass
Acoustic Guitar Long Sustain

Acoustic Guitar Just Colour