The Power of Attack
Get ready to add power and punch to your attacks that will cut through your mix like never before. Enhance and shape your transients in an innovative new way.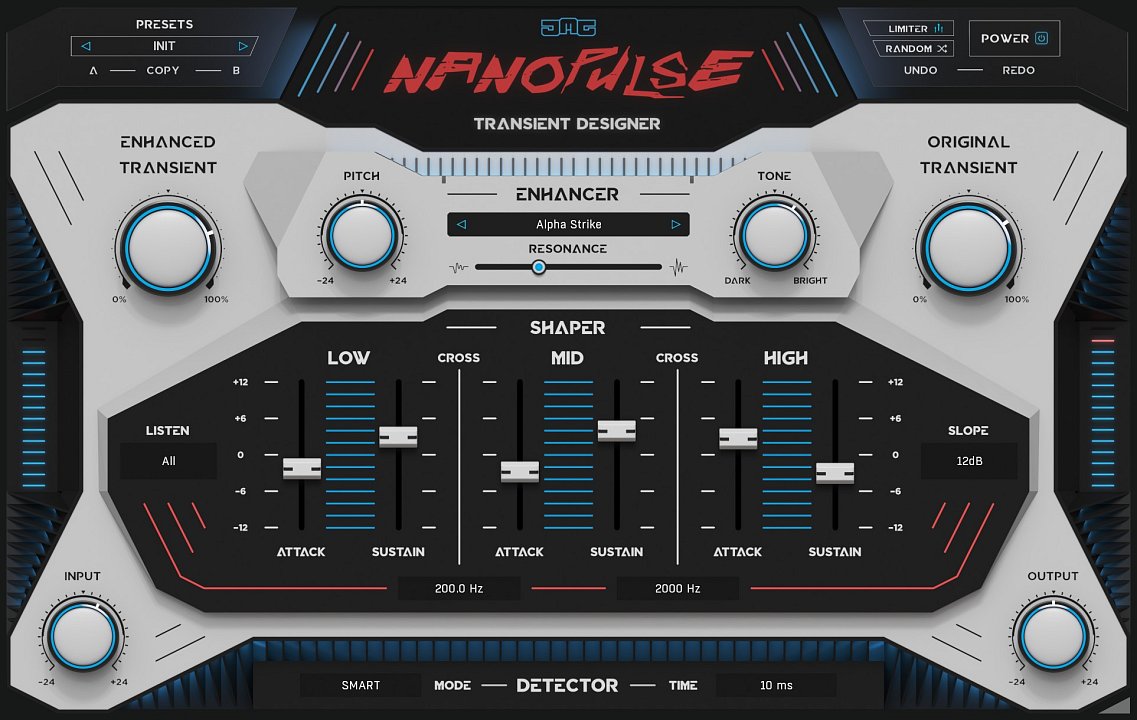 ---
The Pulse
Nanopulse takes the profile of other expertly crafted attack sounds and applies them to your sound, giving you the power to morph the character of your transient or replace it altogether. Then shape the dynamics to perfection with Nanopulse's multiband attack and sustain processor.
Enhanced Attack
Morph the character of your transients with various profiles taken from drums, percussion, instruments, noises, objects and more. You can use these character profiles to subtly enhance your existing transients or completely transform them. You get complete control over the pitch, tone and resonance to ensure the timbre fits perfectly with your sound.
Transient Shaping
Use the 3-band dynamic shaper to balance the relationship of attack and sustain independently for low, mid and high frequencies. You can change the crossover frequencies and slope to finetune it to your needs. The 6 easy to use sliders give you immediate control to sculpt and shape your sound with lightning speed and precision.
Flexible Detection
Nanopulse offers three different modes for detecting transients, Smart, Spectral and Fast. Each has unique sound properties and benefits, offering you the flexibility to suit your audio material.
Character Morphing
At the heart of Nanopulse is our unique attack enhancer. Here you can select from 64 transient types. They have been captured from a wide variety of sources, for example, snare skin, woodblock, kick beater, glass ping, string pluck, cymbal tap, and the list goes on. Simply select from the list to make your transients take on the character of these profiles.
Order & Chaos
Nanopulse has a high-quality limiter on the output that lets you drive the level into or simply use it as a safety feature. There is also a handy randomizer that can drum up unexpected inspiration, but if you do not prefer the results, you can use the undo feature to revert back to your original sound.
Hassle-free software protection
No iLok, no dongle nor internet access is required for activation. Our software uses licence files to activate your software. You can freely use the purchased software on all your computers as long as you are the user.
Realistic 3D yet flexible GUI
The photorealistic graphic user interface of the plugin gives you the feeling you are touching the real hardware. But it easily adapts to your needs. You can always drag the arrow in the bottom right corner to change its size - make it smaller to save valuable screen space, or enlarge it to make it easier to use.
FREE 15-Day unlimited trial
All the descriptions are nothing compared to putting your hands on the plugin. No saving limits. No noises. No boundaries. Engage the plugin in your project for real and fully exploit its powers for two weeks.
64-bit audio quality at ANY sampling rate
The plugin provides the maximum audio quality you can get. It uses internal 64-bit audio processing and can handle any sampling rate. 192 kHz or even higher.
Smart bypass
The intelligent way our plugins manage bypassing ensures that you don't get any clicks or harmful noises when automating the parameter. It also compensates for latency ensuring that the bypass states are perfectly in sync with each other.
Intelligent sleep on silence
This plugin intelligently detects whether it makes sense to perform processing at all. And if not, it temporarily turns on sleep mode. In such a state, it requires virtually no CPU at all to save the computing sources for other processes.
Free-for-life updates
Our plugins never get obsolete. We keep track of the current operating systems and DAWs. And you may always update to the most recent version for free. Without paying a cent, a penny, or whatever currency you prefer.
Nanopulse

Powered Artists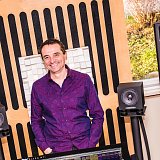 Nanopuls does an incredible job on all this sort of aggro and peaky sounds like rimshots, triangles and superdry shakers etc. smoothing out the sharpness and the ability shaping them into the desired envelope heading for a creamy and thick and very pleasing piece of sound. and of course the opposite if needed! ;)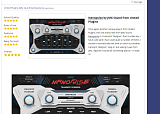 date: 1 June 2022
JMG "do it again"! Another unique approach to a common challenge of mixing. Nanopulse can create very musical and different results than other transient enhancement plug-ins I've tried.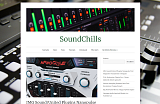 date: 1 June 2022
Nanopulse can be used as a classic transient designer to edit the attack or punch of an instrument. But I think it's wrong to reduce the plug-in to just that.