Bio
Scott started playing at age two and grew up on Stevie Wonder, The Beatles, classic rock, disco, R&B, the big 80's, techno and house music. "I have also been doing a pop/smooth jazz CD for Keeshea. She's a sax player and singer from Switzerland."
Scott has been playing in all kinds of bands since he was fifteen years old, and his keyboard style ranges from classic rock all the way to light jazz. "I do many sessions around NY for all different kinds of music. Lately, I have been doing several dance/pop remixes. Music is my life and I enjoy producing, writing and remixing it all!"
website quote:
started working with united plugins several months ago.
i'm finding the entire line to be super easy to use plus the desired effect i want in seconds !!!!
they all sound great & really low CPU hit.......LOVE 'EM !
Scott Yahney
Producer, Keyboardist,Arranger,Vocalist,Engineer
==========================================================================
Bio:
playing since I'm 2
producer, arranger, keyboardist, vocalist, engineer
working strictly "IN THE BOX"
producing all genres ......Trap/HipHop,Pop,Dance,EDM, Rock, Smooth Jazz etc....
just finished the 1st season of "ALEX2GUNS" web series (
john Williams meets heavy metal !!!)
Quotes
---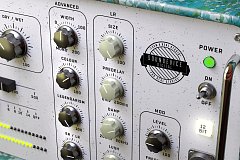 Verbum entropic Hall stands out from the pack in a crowded field of software reverbs. This hall algorithm has a wonderful vintage vibe that sits very well in the mix on anything you put through it.. truly reminiscent of the Great Hardware reverbs of yesterday. Definitely experiment with that 12-bit button it's fantastic.
---
---